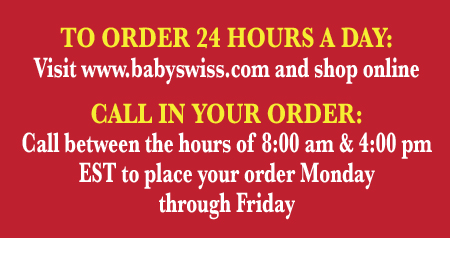 RETURN POLICY:
• Call toll free (1-800-262-2505) for more info on returning products.
• Do not throw away the product. We may send you a return ticket and have you return the product.
• Make sure to keep the label. We will need the date on the label to match the product with its batch. We may also require you to return the label to Guggisberg in order to process your return.
GIFT CERTIFICATES:
Gift certificates in any amount must be redeemed in our retail store only.
CUSTOMER SERVICE:
Please call 1-800-262-2505 Monday thru Friday 8:00 am- 4:00 pm EST.
SUBSTITUTION: Guggisberg Cheese reserves the right to substitute like or similar items on availability or weather.
OUR CANCELLATION POLICY: Changes or cancellations must be made within 2 hours after order is placed. Call 1-800-262-2505 to make any changes.


PAYMENT: Major Credit Cards are accepted.
DELIVERY: Orders are shipped according to destination and required prep time. Closer to holidays shipping prep times may be extended. In the event of an undue delay you will be informed via email. We ship to A.P.O.s and F.P.O.s, but DO NOT ship to P.O. Boxes.
IMPORTANT: Complete address MUST BE provided, including Apt. # or Suites, Floors, etc. Missing information may lead to delays or return to sender and incur additional charges. Please Note: Any changes to orders must be made within 2 hours of the order being placed.
PACKING: Our shipments do not include ice packs or refrigeration of any kind, only decorative grass for insulation. Multiple gift packs being shipped to the same address will not be boxed individually. Gift bags are available.
SHIPPING: We use UPS for our carrier, their shipping prices are calculated according to the weight of the product and destination. Call for an estimate.
Below is a map of UPS transit days from Guggisberg Cheese. These times do not account for processing time, which is typically 1-2 days. UPS does not count the day of shipment as a transit day, and typically does not move or deliver on the weekend. UPS does not guarantee delivery dates (expedited shipping included) during the week of Christmas.
We cannot be held responsible for operational/weather delays from UPS. Once a UPS label is created for an order, you will receive the tracking information in an email at the address provided in your order.
WE RESERVE THE RIGHT TO ADJUST SHIPPING DATES ACCORDING TO OUR DISCRETION.